Historic Oregon Hotel
The Historic Oregon Hotel was first built in the late 1800s. The old building was burnt down in June of 1904. J. W. Carrol, who had been in the hotel business for some years, rebuilt a new structure to be completed and ready for occupancy on October 1, 1904. Mr. Carrol expected to cater to commercial travelers, in particular, and make the Oregon Hotel second to none in Eastern Oregon. This structure was destroyed by a fire in 1936. The third and present Oregon Hotel was constructed in 1938 by Baxter Payne.
The owners, Hugh and Skeeter Reed, have recently done a complete renovation of the entire Hotel, restoring it to its previous condition and adding "homey" touches of their own. With 11 suites, one hostel and 2 kitchenettes, the Oregon Hotel is able to accommodate everyone by providing a resting place with style and comfort at a good price.
The Oregon Hotel is centered among some of the best outdoor recreational wilderness areas in Central Oregon. There is fishing in local streams, along with fishing and rafting on the scenic John Day River, and World-class hunting for deer, elk, antelope and wild birds in the immediate area and nearby mountain ranges. Located just minutes from Mitchell is the Lucky Strike Mines, if you are interested in thunder eggs and other minerals. For a small fee, you can prospect them yourself. With all of the activities at your disposal, we are sure that you will find the Historic Oregon Hotel in an excellent location.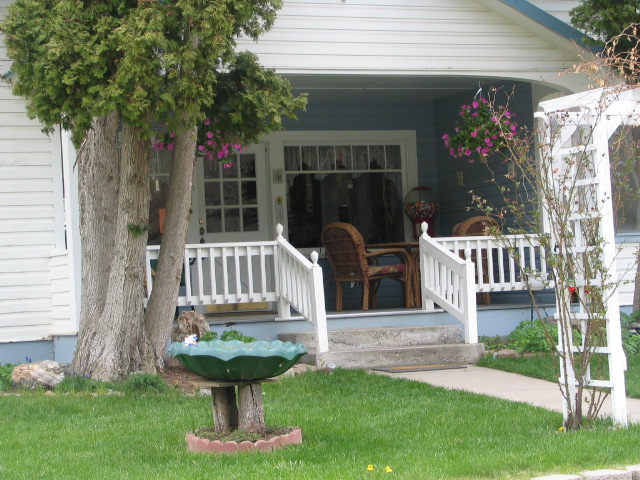 Just nine miles west of Mitchell is the beautiful Painted Hills Unit of the John Day Fossil Beds National Monument. Created over millions of years, the weathering of volcanic ash under varying climate regimes resulted in vividly-hued rock layers of red, pink, bronze, tan and black. The Painted Hills is a splendid viewing attraction and a favorite subject of photographers, painters, and geologists alike. There is a picnic area available to the public with restrooms, water, shade, and exhibits. Carroll Rim Trail, Painted Cove Trail, and the Leaf Hill Trail are available for your fun, exploration, and adventure.